The Albatros D.II was a German fighter aircraft used during World War I. After a successful combat career in 
the early Jagdstaffeln, it was gradually superseded by the Albatros D.III.
Design and Development
Edit
Operational history
Edit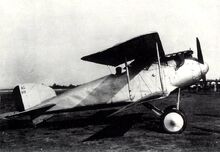 Operators
Edit
Austria-Hungary
Austro-Hungarian Imperial and Royal Aviation Troops
German Empire
Poland
Polish Air Force operated this type postwar.
Turkey
Specifications (D.II)
Edit
General characteristics
Crew: one (pilot)
Length: 7.40 m (23 ft 3.5 in)
Wingspan: 8.50 m (27 ft 11 in)
Height: 2.59 m (8 ft 6 in)
Wing area: 24.5 m² (264 ft²)
Empty weight: 637 kg (1,404 lb)
Loaded weight: 888 kg (1,958 lb)
Powerplant: 1 × Mercedes D.III 6-cylinder inline engine, 120 kW (160 hp)
Performance
Maximum speed: 175 km/h (95 kn, 110 mph)
Service ceiling: 5,180 m (16,990 ft)
Rate of climb: 3 m/s (596 ft/min)

Endurance: 1.5 hours
Armament
2 × forward-firing synchronized 7.92 mm (.312 in) lMG 08 (early) or LMG 08/15 (later) machine guns
References
Edit
Bibliography
Cheesman, E.F. (1960). Fighter Aircraft of the 1914-1918 War. Harleyford Publications.
Hofling, Rudolf (2002). Albatross D-II Germany's Legendary World War I Fighter. Schiffer Publications, Ltd.
Munson, Kenneth (1968). Fighters, Attack and Training Aircraft of the 1914-1919 War. Blandford Press.
Taylor, John W.R. (1969). Combat Aircraft of the World from 1909 to the Present. Putnam.
Grey & Thetford (1962–70). German Aircraft of the First World War (2nd ed.). Putnam & Company.
Community content is available under
CC-BY-SA
unless otherwise noted.